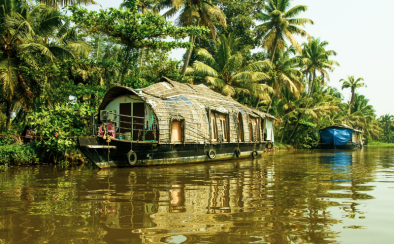 Best places to visit in kerala
Kerala is a state in southern India that is known for its tropical beauty, its friendly people, and its rich culture. Kerala is also a great place to visit if you're looking to experience some of the best that India has to offer. From the stunning beaches of Varkala to the serene backwaters of Alleppey, there are plenty of places to explore in Kerala.
Here are a few of the best places to visit in Kerala
Alleppey
Alleppey, also known as Alappuzha, is a charming town located on the banks of the Kerala backwaters. It is famous for its picturesque canals, lovely beaches, and temple festivals. Alleppey is also a great place to shop for traditional Kerala handicrafts and spices.
If you're looking for a truly unique and memorable experience in Kerala, then be sure to add Alleppey to your list of places to visit!
Munnar
One of the best places to visit in Kerala is Munnar. This beautiful hill station is known for its stunning scenery and tea plantations. Visitors can explore the many different trails through the tea plantations or head to one of the many viewpoints to take in the breathtaking views. There are also plenty of opportunities to go hiking or bird watching in Munnar.
Kumarakom
Nestled on the banks of the Vembanad Lake, Kumarakom is a haven for nature lovers and adventure seekers alike. The lake itself is a great spot for boating, fishing, and bird watching, while the surrounding area is ideal for trekking, camping, and canoeing. There are also several Ayurvedic resorts in Kumarakom where you can relax and rejuvenate your body and mind.
Thekkady
Thekkady is one of the best places to visit in Kerala. It is known for its beautiful landscapes and wildlife. Thekkady is also home to the Periyar National Park, which is a popular tourist destination.
Poovar
Poovar is a small town located in Kerala, India. It is situated on the banks of the River Neyyar. Poovar is a popular tourist destination due to its beautiful beaches and natural scenery.
The best time to visit Poovar is from October to March when the weather is cool and pleasant. During this period, you can enjoy activities such as swimming, sunbathing, and fishing.
Kovalam
Kovalam is one of the best places to visit in Kerala. It is renowned for its beautiful beaches, and there are plenty of activities to keep you busy. Kovalam is also home to a number of Ayurvedic resorts, making it the perfect place to relax and rejuvenate.
Wayanad
Wayanad is one of the most popular tourist destinations in Kerala. It is known for its scenic beauty and lush green landscapes. Wayanad is also home to some of the best trekking trails in Kerala.
Cochin
Cochin has something for everyone to enjoy. History buffs will love visiting sites like the Mattancherry Palace and the Jewish Synagogue. Culture lovers can enjoy the many festivals that take place in the city, such as the Kochi-Muziris Biennale. And nature lovers can explore the backwaters or take a boat ride through the Chinese fishing nets.
Palakkad
There's plenty to see and do in Palakkad, from exploring the many temples and mosques, to taking a leisurely stroll through the spice plantations. Make sure to visit the Palghat Fort, which was once the stronghold of the Zamorin rulers, and the Jain temple at Jainmedu, which is one of the oldest Jain temples in Kerala.
Thiruvananthapuram
Kerala's capital city is a great place to visit, with plenty to see and do. The city is home to some of Kerala's most important historical sites, as well as a number of museums, art galleries, and other attractions. Thiruvananthapuram is also a great base for exploring the rest of Kerala, with plenty of transportation options available to get you around.
So if you're looking for an unforgettable experience in Kerala, be sure to get in touch with a Wowidays expert!
The World is Ours, We all are Wowidians